KDMC and OLBH compete in Food Feud for River Cities Harvest
Category: News
Posted On:
Written By:

Tammi Holbrook
King's Daughters and Our Lady of Bellefonte Hospital have a friendly competition planned to help River Cities Harvest stock its pantries with food. The two hospitals will participate in a Food Feud between March 16 and April 7 in which their team members will compete to see who can generate the most donated food items. The winning hospital will receive a trophy to keep until the next Food Feud in 2016.
"Last year we conducted a Food Feud among our own departments and collected more than 10,000 pounds of food," said Rita Burgess, King's Daughters patient representative who helped oversee the project. "This year, we thought it would be wonderful to join with Our Lady of Bellefonte Hospital in a fun competition between our organizations to see how much food we can collect together!"
Burgess said they decided it would be great to have the competition during the March Madness NCAA tournaments.
"We are looking forward to working with our friends at KDMC to help fill the shelves at River Cities Harvest," said Luann Serey, OLBH director of Community Services. "Both hospitals have generous employees that will be excited to help."
River Cities Harvest is a food rescue agency located in Ashland, Ky. The organization and its volunteers collect food donations and deliver them to local pantries that help feed the hungry. Over the past year, River Cities Harvest has helped more than 21,000 of our neighbors in need stave off hunger.
More information about River Cities Harvest is available by calling (606) 324-3663.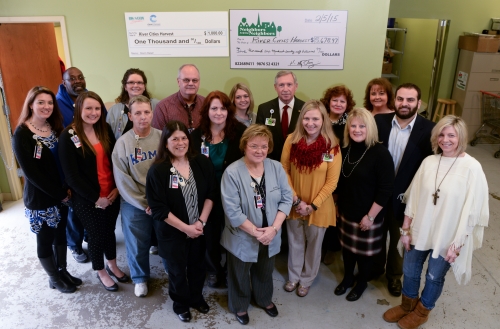 Group photo: From left, Belinda Davidson, Ronnie Parker, Megan Brown-Clark, Tiffany Stewart, Kathy Brooks, Dan Wilson, Helen Lewis, Becky Yates, Randi Wheeler and Rita Burgess of KDMC: Chuck Charles, Angela Wells-Coburn, Luann Serey, Mary Kay McGinnis Ruark, April Bryant and Elias Hajjar of OLBH; and Terri Clark, director of River Cities Harvest.