Open heart surgeons, team earn accolades
Category: News
Posted On:
Written By:

Erin Bounds
Cardiothoracic Surgeons of Kentucky – the cardiac surgery group at King's Daughters Medical Center – has once again achieved a three-star rating from the Society for Thoracic Surgery (STS) for both coronary artery bypass surgery (CABG) and for aortic valve replacement (AVR).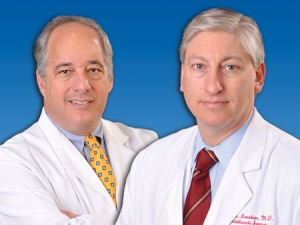 KDMC is the only hospital in Kentucky to have earned three stars for AVR.
The data reflects the quality of care provided both by the surgeons, Eric Bronstein, M.D., and Robert Fried, M.D., as well as by open heart team members, the ICU team, recovery nurses and more. CABG data is for calendar year 2014; valve replacement data is for a three year period, Jan. 1, 2012-Dec. 31, 2014.
For more information about the reporting and evaluation methodology, visit sts.org.
Open heart surgeons Robert Fried, M.D., left, and Eric Bronstein, M.D.