Silhouettes of Courage event is noon Thursday
Category: News
Posted On:
Written By:

Erin Bounds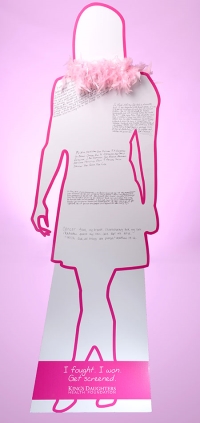 Throughout September, King's Daughters has been gathering stories of hope, courage and resilience in the face of breast cancer. These stories have been written – often in the storytellers own hand, upon life-size silhouettes.
These Silhouettes of Courage will be unveiled at a special Breast Cancer Awareness kickoff event at noon, Thursday, Oct. 1 under the tent, 24thStreet and Central Avenue, on the King's Daughters campus.
Breast cancer survivors, patients, families and other interested community members are invited to attend the event, which will feature women who have survived the disease as well as medical professionals who assisted them in their fight. No RSVP is needed.
King's Daughters president and CEO Kristie Whitlatch, medical oncologist Chad Tarabolous, M.D., and King's Daughters Health Foundation president Kim McCann also are scheduled to speak. Light refreshments will be served.
"One of the most important things we have to do is to spread the word about prevention and early detection of breast cancer," said, Leslee McLeod executive director of King's Daughters health foundation. "By sharing women's stories, we hope to move people to think about prevention, to act for early detection and to be advocates for screening."
Women are often surprised to learn that 85 percent of all breast cancers occur in women with no family history of the disease. "Absence of a family history is no guarantee of safety," McLeod said, "breast cancer does not discriminate. It can occur to anyone, at any time." Several of the stories collected on the Silhouettes describe the diagnosis occurring in women in their 30s.
After Thursday's unveiling, the silhouettes will be distributed at various locations around town, in pairs or groups, to serve as a real, visible reminder of breast cancer and the toll it takes of women, families and the community.
The Silhouettes of Courage program is sponsored by King's Daughters Health Foundation. The Silhouettes of Courage concept was adapted from the Columbus affiliate of Susan G. Komen.
For more information or to inquire about hosting a silhouette at your business or organization, please call Laura Patrick at (606) 408-1727.