New transport chairs address age-old wheelchair problem
Category: News
Posted On:
Written By:

Erin Bounds
Wheelchairs are a problem for everyone.
There are never enough. Or there are too many cluttering up valuable space. They are never in the right place. They are uncomfortable to sit in and a struggle to get in and out of. They are difficult to push, lock down and steer. Even moving the footrests can be a problem.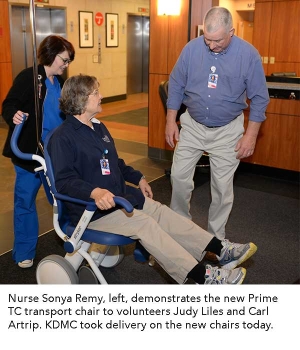 And they get stolen. Industry wide, hospitals lose about a third of their wheelchairs every year. At King's Daughters Medical Center, that has meant purchasing about 50 new wheelchairs every year.
In January, King's Daughters took an important step to do something about the problem, purchasing the Stryker Prime TC, the next generation of patient transport chair. The Prime TC doesn't look like a traditional wheelchair, or act like one. It is a transport chair, designed to make the job easier for the caregiver and more comfortable for the patient.
Features include:
Stand-assist armrest supports that can swivel out of the way, making it easier for patients to enter and exit the chair.
Rigid seat design that is more comfortable to sit in and prevents the chair from being folded and put into a trunk.
Foot-activated center back brake so caregivers don't have to move to the front of the chair to lock the wheels.
Ergonomically designed push handles that accommodate caregivers of different heights while reducing the potential for back injury.
Capacity of up to 500 pounds.
Pivoting wheels that take corners easily and roll effortlessly.
Foot-operated, push-button foot rests that swivel, eliminating the need to bend over in front of the chair.
Modern design that not only looks cleaner but is; the entire chair can be power washed!
Parts that can be moved out of the way but cannot be removed.
Weighing in at 140 pounds, the rigid construction Prime TC is less likely to be stolen. Their stackable design allows them to be nested, creating a neater and more organized first impression at King's Daughters entrances.
"Even though the chairs weigh 140 pounds, they are much easier to maneuver and push than a traditional wheelchair," said Sonya Remy, RN, clinical nurse leader at King's Daughters. "You would never know they weigh that much."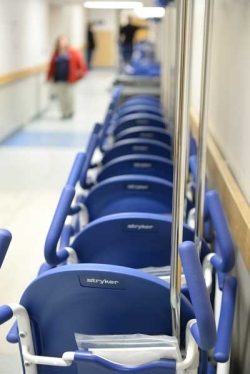 King's Daughters has purchased 100 of the chairs, which were designed by American architect Michael Graves in partnership with Stryker, a respected manufacturer of hospital equipment and furnishings. In 2003, Graves became paralyzed from the waist down following a rare viral infection of the spine. "After eight hospitals and four rehab centers, I realized the sad truth is that (hospital design) is so bad and that I'm a designer and could do something about it," Graves said in a CNBC interview.
During his initial hospitalization, Graves is rumored to have asked caregivers save his life because the hospital was too ugly to die in. Since then, Graves has worked to improve hospital design, including patient room furniture, headwalls and more.
KDMC trialed the Prime TC in November. "They used them in the ER, at the Medical Plaza A entrance and for house transport," Remy said, noting that everyone loved the chairs. King's Daughters Patient Advisors Al Green, Jim Rodman, Melissa Behnke and Jerry Henderson also trialed the chairs and gave them unqualified support, according to Jane McClelland, PX1.
Remy's team has been working hard for the past six months to track wheelchairs and reduce theft. "People just pick them up and put them in the car. We have had people rip the anti-theft pole off to fit it in their trunk!"
Although the Prime TC chairs cost more, Remy and her team anticipate theft will drop to zero. "There was a trial done at Penrose Hospital in Colorado Springs," she said. "They bought 70 of these chairs and one year later still had 70."
"This was a big selling point for me."
As for the "old-school" wheelchairs, they are are being rehomed to the nursing units and doctors' offices in Medical Plaza A and B.