Eating locally grown foods is healthier!
Category: News
Posted On:
Written By:

Tammi Holbrook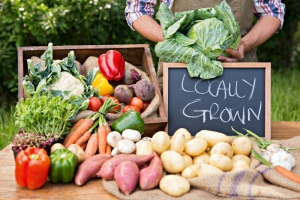 Eating locally grown foods has many benefits, including stimulating jobs, helping the environment (shorter distance equals less carbon emissions), and supporting your community. Not only are you helping others, but you are likely helping your diet!
Locally grown food is fresher and more nutritious. Produce starts losing vitamins and minerals as soon as it's picked, so food picked the day you buy it is better for your health. Our local farmers can pick produce when it's just ripe, ensuring that you get the best nutritious tasting food possible. And, nobody's growing local junk food, so relying on local organic foods can help get junk foods out of your diet!
King's Daughters encourages everyone to buy local whenever possible! The Parkview Café, King's Daughters' cafeteria, is proud to serve in-season local foods including fruits from Savage Farms and meats from JSW Farm Chop Shop (who buys from local farmers).
And, don't forget, the local Farmer's Market, now is available from 2 p.m. to 6 p.m. every Thursday from June to October under the tent on 24th Street and Bath Avenue in Ashland. Come check out the selection of fresh fruits, vegetables and so much more!