Pulmonary Rehabilitation patient shares his amazing story
Category: News
Posted On:
Written By:

Tammi Holbrook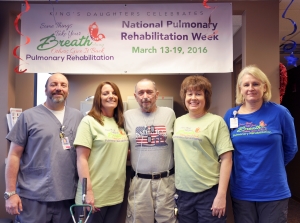 When Ron Smith first became a patient with King's Daughters Pulmonary Rehabilitation about a year ago, it was in preparation for a lung transplant. Suffering with severe COPD, he was able to do few activities of daily living independently.

Now, Ron is no longer wheelchair bound; he's able to do much more on his own, including driving short distances, and he has even considered coming off the transplant list. "I didn't believe pulmonary rehab could help this much," Ron said. "But my therapists kept pushing, and I kept pushing, and here I am!"
Chronic Obstructive Pulmonary Disease (COPD) refers to progressive lung diseases such as emphysema, chronic bronchitis, refractory (non-reversible) asthma and some forms of bronchiectasis. It affects an estimated 24 million individuals in the U.S., and over half of them have symptoms of COPD and do not know it. Early screening is important. Symptoms may include shortness of breath, frequent coughing, wheezing and tightness of the chest.
Of his COPD, Ron said, "It's your disease. You own it. Don't let it own you."
Ron, 58, is a life-long native of Cannonsburg, and served in the U.S. Marine Corps. He comes to his treatments at King's Daughters Pulmonary Rehab with a determined spirit and an appreciation for his team of therapists. "I really enjoy doing the therapy. It's absolutely working," he said. "And, I didn't get this far alone — I couldn't have done this without the team here."
His wish in sharing his story is to educate, inspire and encourage others who could benefit from Pulmonary Rehabilitation. "They might not believe these treatments can help them. I didn't think it could either, but it did!"
As we celebrate National Pulmonary Rehabilitation Week, please join us in saluting Ron and his amazing team of therapists who are dedicated to helping people reclaim their lives!
To learn more about King's Daughters Pulmonary Rehabilitation services, click here or call (606) 408-0925 today.
Photo: David Jenkins, RRT; Sherri Miller, RRT; Ron Smith; Tina Thornbury, CRT and Debbie Williams, RRT.