Urologist William Boykin, M.D., first physician in Kentucky to perform new minimally invasive prostate procedure
Category: News
Posted On:
Written By:

Tammi Holbrook
Men suffering from urinary flow problems due to an enlarged prostate, or benign prostate hyperplasia (BPH), now have a new treatment option — a minimally invasive outpatient procedure called UroLift® .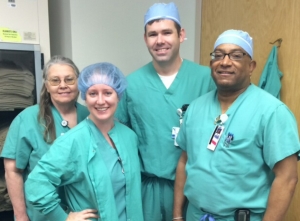 On Monday, March 7, Urologist William Boykin, M.D., was the first physician in the state of Kentucky to perform the procedure, successfully treating three patients at King's Daughters Medical Center.
"The UroLiftSystem provides rapid, prolonged relief," Boykin said. "A small permanent implant is used to lift and hold the enlarged prostate tissue out of the way, to relieve pressure and allow free urinary flow."
The procedure is performed through the urethra and preserves prostate tissue. Boykin said UroLift has many advantages for patients compared to traditional treatment options. "It is a quick, outpatient procedure that typically doesn't require a catheter because prostate tissue is not heated, cut or removed," he said. "Recovery for the patient is minimal, and UroLift doesn't have many of the side effects, such as sexual dysfunction or incontinence, that are often associated with of other surgical or medication therapies for BPH."
Bluegrass Urology, located at 336 29th St., Ashland, is one of the only practices in the region offering the Urolift System for BPH management. New patients are welcome. To learn more about this new treatment option, or to schedule an evaluation, please call (606) 324-4404.
Photo: Dottie Clay, ST; Traci Voiers, RN; Justin Dixon, M.D.; William Boykin, M.D.