Hip arthroscopy comes to King's Daughters
Category: News
Posted On:
Written By:

Tammi Holbrook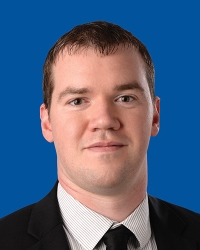 An effective new minimally invasive treatment for hip pain is now available at King's Daughters – hip arthroscopy. Arthroscopy has been a standard treatment for knee and shoulder issues for years. Now the treatment is available for the hip with orthopaedic surgeon Michael Chambers, M.D.
During arthroscopy, Chambers makes very small incisions around the hip and uses a tiny camera, called an arthroscope, and medical instruments to examine the area. Inside the hip, he can identify and treat the underlying issues causing hip pain, including removing loose bone fragments. The procedure also can be used to repair a torn labrum, the cartilage that holds the hip joint in place, as well as to treat femoroacetabular impingement (FAI), where the hip socket and the head of the femur are misaligned.
Appointments for evaluation can be made by calling Dr. Chambers' office at King's Daughters Medical Specialties - Orthopaedics and Sports Medicine at (606) 327-0036.
About Chambers
Chambers received his medical degree from Quillen College of Medicine at East Tennessee State University, Johnson City. He completed his residency at Marshall University Joan C. Edwards School of Medicine, Huntington, W.Va., and a fellowship at the Hughston Foundation Sports Medicine Program, Columbus, Ga.
Chambers is a team physician for Marshall University and Kentucky Christian University and also an assistant professor at Marshall University.