National Cancer Survivors Day is June 5
Category: News
Posted On:
Written By:

Jennifer Fields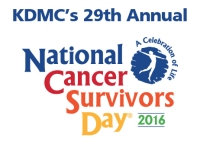 King's Daughters will honor strength and courage of cancer survivors during the 29th annual National Cancer Survivors Day on Sunday, June 5 at the Boyd County Community Center, 15605 State Route 180, Cannonsburg, near the 1-64 interchange, across from Flying J.
This day provides an opportunity for all people living with a history of cancer including America's more than 14.5 million cancer survivors to connect with each each other, celebrate milestones, and recognize those who have supported them along the way.
National Cancer Survivor's Day is an annual, treasured Celebration of Life that takes place in hundreds of communities nationwide on the first Sunday in June. It is a celebration for those who have survived, an inspiration for those recently diagnosed, a gathering of support for families, and an outreach to the community. On National Cancer Survivors Day, thousands gather across the globe to honor cancer survivors and to show the world that life after a cancer diagnosis can be fruitful, rewarding and even inspiring.
Registration begins at noon and the program begins at 1 p.m. Registration is requested by May 30. To RSVP, call King's Daughters Hospitality House at (606) 408-7730 or 1-888-377-KDMC. The event is sponsored by King's Daughters Medical Center Auxiliary.