Breast Center director tells of her own breast cancer journey
Category: News
Posted On:
Written By:

Tammi Holbrook
October is Breast Cancer Awareness Month — a good time to remind women everywhere the importance of getting an annual screening mammogram.The following is the first-hand story of King's Daughters Breast Care Center director, Doretha Pridemore, whose breast cancer was caught early by a mammogram.
Doretha would like to remind everyone that no physician order is required to schedule a mammogram at King's Daughters, and health insurances cover screening mammography 100 percent. King's Daughters also has funding from Kentucky's Breast Cancer Research and Education Trust to fund mammograms for eligible underinsured/uninsured women. For more information, call (606) 408-2650.
Doretha's story: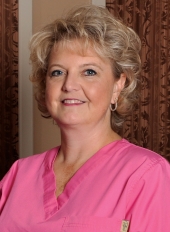 Have you ever faced a circumstance that quickly alters or changes your "normal" life? A change that involves your future, your children's and husband's future, your entire world? Let me take you back 14 years ago, when that happened to me. I was a 38 year old nurse working at my dream job; Labor and Delivery. I had always wanted to be a nurse and always knew that was where I wanted to work.
I was scheduled for my routine KDMC screening mammogram in May 2002 but rescheduled to accommodate my busy life. My son was graduating from high school in May and heading to UK, so I didn't have time for a mammogram. Summer was busy with sports, vacation, and sadly, moving my son into a dorm room. I was definitely too busy for a mammogram; after all, I didn't have a family history of breast cancer.
Life was adjusting to a new "normal." My youngest son was just beginning 8th grade; my oldest son beginning his first year in college. August seemed like a good time for a mammogram, so I scheduled my routine screening mammogram. After having my mammogram in August, I received a call stating I needed to come back for more images of my left breast. I went back for my additional pictures in September, wondering what they had seen on my first visit. After completing the images, the mammography technologist told me the radiologist had just talked with my OBGYN and he wanted me to come straight to his office. I asked her why and what did they see, knowing she couldn't tell me anything. I left there hoping for the best but fearing the worst. I don't even know how my legs carried me down the endless hallway with endless doors. Just how many doors are in this facility? I wanted to scream and cry but instead just began praying. I was all alone. How was I going to tell everyone? My husband was out of town working, how could I tell him and make sure he made it home safely? How was I going to tell my sons, my parents, my sisters, my co-workers? During that anxious walk, I was trying to figure out everything and didn't know anything.
My doctor was waiting to discuss the findings. I had a mass on my left breast that didn't look good. He told me it wasn't there the year before so that was a good sign. I was scheduled to see the surgeon the next week that performed a biopsy. A biopsy that confirmed the phrase nobody ever wants to hear, "you have cancer." What am I going to do? I have two sons that need their mother and a husband that needs his wife. I cried about two or three minutes and decided that I could handle this. I was strong and brave and knew it wouldn't be easy, but I could do this.
Surgery was scheduled the following week. My prayer was that it hadn't spread to my lymph nodes. And I was so relieved when my prayer was answered. The months ahead I was introduced to chemotherapy and then radiation. Neither treatment was my best friend, but I knew I had to endure them to have a better chance of beating cancer.
A year after my breast cancer diagnosis, I was asked if I would like to be the supervisor of the Breast Care Center. How could I leave my co-workers and my dream job? I knew I couldn't pass up the opportunity. How could I not take a job? After all, I had personal insight and knew exactly what they were feeling and going through. I could use my personal journey to help others. I could still make a difference in someone's life.
I am so thankful that I had an internal urge to get yearly mammograms and insurance that covered them. I didn't have a family history of breast cancer, so I didn't think I could or would get breast cancer. My family has a history of breast cancer now. Eight years after my diagnosis, my mother was diagnosed with breast cancer.
I am so happy and blessed to say that I have just celebrated 14 years of being cancer free. I am also happy to say that 13 years of it have been in the Breast Care Center; my new dream job.