Lower your LDL with lifestyle changes
It is possible to lower your LDL with diet and lifestyle changes alone.
One of the most important things you'll need to do is pay attention to the fats in your diet. Reading nutrition labels can make a big difference. When shopping, use the labels to compare foods and find ones lower in saturated fat, trans fat, total fat, cholesterol and calories.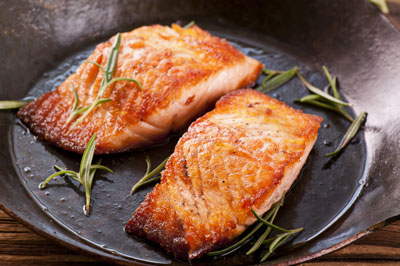 Compare and keep track of the actual grams of fat in each food. You can also use the percent daily value listing to determine how much fat each food is contributing to your daily total. (There is NO recommended daily allowance of trans fats.) However, these numbers are calculated for the average person who does not have a cholesterol problem. So they will be higher than recommended for someone who is trying to lower fat intake.
Be sure to check the ingredient list. It will tell you what the food contains, including any added ingredients, nutrients, fats or sugars. Ingredients will be listed in descending order of amount by weight.
Another hint is to pay attention to the number of servings per container. Don't get fooled by claims that the food is low-calorie or low-fat when the truth is the serving size is abnormally small.
Adding fiber
Remember you want to increase your soluble fiber intake as this can have a positive effect on your cholesterol numbers. Here's how:
Choose hot or cold breakfast cereals such as oatmeal and oat bran that have 3 to 4 grams of fiber per serving.
Adding one tablespoon of ground psyllium seeds to your diet. This will give you five grams of soluble fiber!
Pears and one medium-size citrus fruit will add 2 grams of soluble fiber. Others contribute 1 gram.
Legumes, such as black beans, kidney beans, lima beans, navy beans, northern beans and pinto beans, add from 1.5 to 3.5 grams of soluble fiber per ½ cooked.
In the veggie world, Brussels sprouts add 3 grams of fiber per ½ cup.
It's about variety, not deprivation
Plan to get six or more servings a day of breads/grains/cereals, including whole-grain breads and cereals, pasta, brown rice, potatoes, low-fat crackers and low-fat cookies. Aim for 3 to 5 servings per day of veggies, beans and peas. These are good sources of vitamins, fibers and other nutrients.
Enjoy 2 to 4 servings of whole fruit a day. Fresh, frozen, canned and dried, without added sugar, are best. Two to 3 servings of fat free or low-fat dairy, such as 1% milk provide calcium and protein at a much lower fat level. Choose fat-free, low-fat milk, buttermilk, yogurt, sour cream, cream cheese, low-fat cheese. No more than two egg yolks per week – including those found in baked goods. Yolks are high in dietary cholesterol. Choose egg whites or egg substitutes instead.
When it comes to meats, consume 5 ounces – or less – daily. Good choices are skinless poultry; lean cuts of meat, such as sirloin tip, round steak and rump roast; and fish that's high in omega 3 fatty acids, such as tuna, salmon and mackerel.
Need help lowering your cholesterol, LDL or triglycerides? Talk to your primary care provider or cardiologist about steps you can take. If you need a provider, give us a call at 1-844-324-2200 and we can help you find the provider that's right for you.