King's Daughters welcomes new podiatrist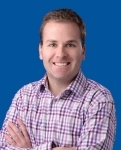 King's Daughters Medical Center is pleased to welcome a new podiatrist to its team: Matthew Ellsworth, DPM.
Podiatrists provide medical and surgical care for a variety of foot and ankle conditions, including plantar fasciitis, heel pain, complications of diabetes, hammer toe diabetic foot care, gait problems, calluses, non-healing wounds, and ingrown toenails.
Ellsworth earned his medical degree from Ohio College of Podiatric Medicine in Independence, Ohio and completed his podiatric medicine/surgery residency at the Department of Veterans Affairs Medical Center in Dayton, Ohio.
He is board certified by the American Board of Podiatric Medicine and has achieved certification in wound care from the American Board of Wound Management.
Ellsworth joins King's Daughters Medical Specialties – Orthopaedics and Sports Medicine, seeing patients in Suite G20, 613 23rd St., Ashland. New patients are welcome. For more information, please call the office at (606) 327-0036.