Louisa Office Expanding, Offering Nephrology Services
Category: News
Posted On:
Written By:

Erin Bounds
King's Daughters is pleased to announce the expansion of its Louisa, Ky., clinic to include nephrology services.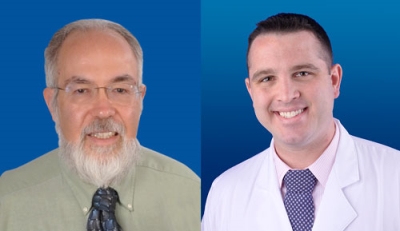 Nephrologists James Egel, M.D., (left) and J. Michael Kasey, D.O., will be seeing patients in Suite 103 of Three Rivers Medical Plaza, 2348 State Highway 644, beginning in early February.
A public open house is scheduled for 11 a.m. to 1 p.m. Wednesday, Jan. 25. Free blood pressure screenings, light refreshments and giveaway items will be available.
The office, which has been home to King's Daughters cardiology group for a number of years, has recently been expanded to accommodate the new medical specialty. Dr. Egel will see patients on Monday mornings while Dr. Kasey will see patients on Wednesday mornings. In March, all members of the practice will begin providing inpatient services at Three Rivers Medical Center.
"We are excited to be bringing our services to Louisa," Dr. Kasey said. "We already have a number of patients from Louisa and Lawrence County who make the trip to Ashland to see us. This new office will make it much easier for them to receive the care they need," he said. "We will also be able to reach out to patients who need specialized care but who have been unable to travel to our main office for care."
Nephrologists specialize in the treatment of kidney disease, electrolyte imbalances, hypertension, complications of diabetes, and dialysis.
"Because blood pressure and kidney disease are interlinked, nephrologists have special knowledge and training in the treatment of difficult-to-manage hypertension," Dr. Kasey noted. He has achieved certification as a hypertension specialist through the American Society of Hypertension. In addition, the practice, King's Daughters Nephrology and Hypertension Specialists, has been designated Hypertension Practice Center by ASH.
Patients are seen by physician referral; new patients are welcome. For more information, please call the practice at (606) 329-9335.
In addition to Drs. Kasey and Egel, King's Daughters Nephrology and Hypertension Specialists includes Donald Hammonds, D.O., Jonathan Kendall, M.D., Ryann Pangan, M.D., Swathi Pulella, D.O., and Charbel Salem, M.D. The main office is located in Suite 130 of Medical Plaza B, 613 23rd St., Ashland.
King's Daughters cardiology group – cardiologists Mana Keihanian, M.D., and Roger Klein, M.D., and electrophysiologist John Van Deren, M.D., will continue to see patients in the Louisa office.