NICU receives $41,500 grant for Giraffe Omnibed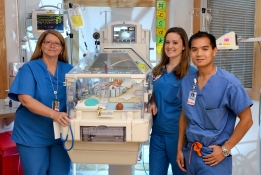 King's Daughters Newborn Intensive Care Unit has received a $41,500 grant to purchase a specialized bed to care for premature infants from Brave Beginnings, a program of the Will Rogers Institute.
The Giraffe Omnibed pairs an incubator and radiant warmer, creating a healing environment for premies. A special curtain protects the baby from heat loss when the incubator is opened while airflow through double walls maintains a constant temperature. The radiant warmer provides steady heating for the baby, regardless of the baby's position.

The bed includes an integrated scale, which allows quick and accurate measurement of the infant's weight.
"This amazing bed allows us to give the best care for infants in an environment that maintains their temperature and allows them to grow,"said neonatologist Ramon Ymalay, M.D.
Prior to receiving the grant, King's Daughters rented the specialized bed on an as-needed basis. Having the bed immediately available for premature infants is a great benefit to the baby, family and care providers.
King's Daughters was selected to receive the competitive grant based on need. Those who contributed to the successful grant application on behalf of KDMC included:
Laura Patrick, Community Relations
Ramon Ymalay, M.D., neonatology
Deedra Keller, NICU clinician
NICU nursing team
Brave Beginnings helps hospitals across the U.S. acquire new neonatal equipment, such as the Ominbed, infant resuscitators, incubators, and critical airway carts. To date, Brave Beginnings has provided more than $3.9 million in grants to 78 medical facilities.