Could a minimally invasive procedure be best for you?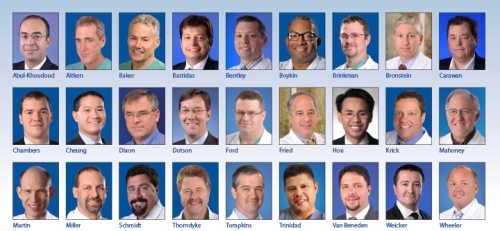 Whether you call it keyhole surgery, Band-Aid surgery, or endoscopic surgery, minimally invasive surgery is a set of techniques that allow the surgeon to operate through very small incisions.
In minimally invasive surgery, a number of these are made, through which the surgeon inserts a small, flexible camera that allows visualization of the surgical field on high-resolution monitors. Specially designed, miniature instruments are inserted through the other ports, allowing the surgeon to take tissue samples, repair defects and remove foreign objects or tumors.
The surgical team at King's Daughters has been performing minimally invasive procedures for decades, with extensive experience in laparoscopic, endoscopic, and robotically assisted surgery.
While not all conditions or patients are suitable for minimally invasive surgery, when it is appropriate, patients benefit from small incisions that cause less discomfort and heal more quickly. Scars are smaller and hospital stays are shorter, reducing the overall cost for the patient. Plus, the risk of infection and other post-surgical complications is reduced. Procedures that can be performed using minimally invasive techniques include:
• General – severe gastroesophageal reflux disease (GERD), gallbladder removal, obesity (gastric bypass, gastric sleeve), gastrointestinal/rectal conditions, hernias (paraesophageal, ventral, hiatal or incisional)
• Lung – Some lung tumors
• Gynecologic – Gynecologic cancer, benign tumors, endometriosis, uterine fibroids, ovarian cysts, benign cervical disorders, conditions requiring hysterectomy, removal of ovaries and staging of lymph nodes
• Neurosurgery/Spine – Spine conditions, cervical disc hernias, lumbar disc hernias, degenerative disc disease, spinal trauma, skull base brain tumors, anterior cranial fossa (front skull base) tumors, posterior cranial fossa (back of the skull base) tumors
• Orthopaedic – ACL repair, cartilage restoration, fracture repair
• Vascular – Varicose veins, venous insufficiency, peripheral vascular disease, abdominal aortic aneurysm
• Urological – Kidney cancer, kidney cysts, kidney stones, kidney blockage, lithotripsy, prostate cancer, incontinence, vaginal prolapse
A minimally invasive approach is not always the right choice for your situation. Some patients have differences in anatomy, scar tissue from prior surgeries or health conditions that may preclude them from having minimally invasive surgery. Regardless of the circumstance, the skill and experience of King's Daughters surgeons – and the entire surgical team – broadens the available options for all patients.
Robotically Assisted Surgery
Advanced technology, such as the Da Vinci Surgical System, allows surgeons to perform extremely delicate procedures by translating large movements into very tiny, precise actions. During a robotic-assisted procedure, surgeons work from a master console equipped with controllers that maneuver four robotic arms. Viewing high-definition, three dimensional images, the surgeon can move easily within the surgical field, while the computer translates his/her movements with precision.
Not all minimally invasive procedures are completed with robot assistance, and not all medical cases are right for robotic-assisted surgery—some patients may benefit from endoscopic or open (traditional) surgery.
King's Daughters surgeons performing minimally invasive procedures include:
Omran Abul-Khoudoud, M.D., vascular/endovascular surgery
George Aitken, M.D., orthopaedics
Greg Baker, M.D., otolaryngology
Juan Bastidas, M.D., cardiothoracic surgery
Jared Bentley, M.D., orthopaedics
William Boykin, M.D., urologist
Jon Brinkman, D.O., otolaryngology
Eric Bronstein, M.D., cardiothoracic surgery
Stephen Carawan, M.D., orthopaedics
Michael Chambers, M.D., orthopaedics
Felix Cheung, M.D., orthopaedics
Justin Dixon, M.D., urology
Tony Dotson, D.O., obstetrics/gynecology
Richard Ford, M.D., gynecology
Robert Fried, M.D., cardiothoracic surgery
Alexander Hou, M.D., vascular/endovascular surgery
James Krick, D.O., urology
Thomas Mahoney, M.D.,obstetrics/gynecology
Adam Martin, M.D., general surgery
Kevin Miller, M.D., general surgery, bariatric surgery
Christopher Schmidt, D.O., urology
Charles Thorndyke, M.D., urology
Roderick Tompkins, M.D., general surgery, bariatric surgery
Gerry Trinidad, M.D., orthopaedic surgery
William Van Beneden, D.O., otolaryngology
Michael Weicker, M.D., neurosurgery
Timothy Wheeler, M.D., general surgery, bariatric surgery