Nutrition Month is about making healthier choices
Category: Blog
Posted On:
Written By:

Mikyla Peres, RD, LD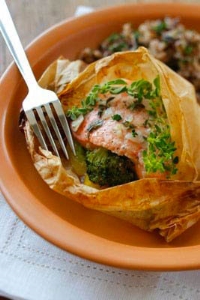 Nutrition is about small changes, and beginning to practice cooking more at home and experimenting with healthier ingredients.
The best recipe should be:
Something you can make into your own (don't have a listed ingredient? Use what you have!)
Simple to follow with fewer ingredients (same time, money, and energy!)
Healthy! (Investing in your health makes the time spent so much more rewarding!)
The internet is full to the brim of these kinds of recipes. This year, The Center for Healthy Living is celebrating National Nutrition Month with our stamp of approval, ahem..."Our Best Fork" on all kinds of recipes. Stick with us to start your collection of Best Fork Recipes throughout the month. The following recipe allows for so many modifications! Use whatever meat or veggies you have on hand, or prepare these ahead of time to help speed up your weeknight dinner preparation!
Best Fork-Baked Fish Packets with Broccoli and Squash
Serves 4
Ingredients:
4 4-ounce fillets of fish (cod, halibut, salmon, snapper, sea bass, etc.)
1½ Cups sliced summer squash
2 Cups small broccoli florets
3 Cloves garlic, finely chopped
4 Tablespoons olive oil
Salt and pepper to taste
4 Sprigs fresh herbs, such as oregano, thyme, rosemary or basil
1 Small shallot, finely chopped
Juice of one lemon
Method:
Preheat oven to 400°F. Cut parchment paper or foil into four 12-inch squares and arrange them on a work surface. Fold each piece in half to form a crease down the middle.
Divide squash between the squares, arranging it just to the right of each crease. Top squash with broccoli and garlic, then drizzle with olive oil and sprinkle with salt and pepper. Arrange one fillet on top of each pile of vegetables, then season fillets with salt and pepper. Top each fillet with an herb sprig and some of the chopped shallots.
Drizzle lemon juice over fillets, then wrap up each square of paper or foil to form a sealed pouch. Transfer pouches to a baking sheet and bake until the fish is cooked through, about 20 minutes. Set aside to let cool for 3 to 4 minutes, then cut pouches open and serve immediately.
Nutritional information
Per Serving: 380 calories (220 from fat), 24g total fat, 4.5g saturated fat, 35mg cholesterol, 760mg sodium, 28g carbohydrates, (4 g dietary fiber, 6g sugar), 14g protein.