Auxiliary provides funding for community projects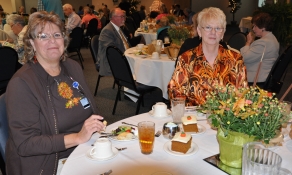 Each year, King's Daughters Auxiliary provides thousands of dollars in funding to support dozens of community programs and health initiatives that benefit underserved and at-risk individuals and families throughout the region.
On Thursday, the Auxiliary awarded $122,000 in gifts to support 17 community projects for fiscal year 2018, including:
$20,000 to newborn car seat program
$15,000 to provide Tdap immunizations to pregnant women in their third trimester
$9,000 to provide home medical equipment supplies for those who are uninsured or underinsured
$6,000 to purchase new robes for women waiting on mammograms/breast ultrasounds at King's Daughters Breast Care Center
$3,000 to provide funding for dental surgery for uninsured patients needing heart bypass or valve surgery
$7,000 to provide meals to homebound individuals
$2,000 to provide patient support at King's Daughters Heart Failure Clinic
Other projects receiving Auxiliary funding for FY 2018 include a diabetes support group, the KDMC emergency medication fund, supplies for KDMC's Kid's Kloset and the purchase of teddy bears for pediatric surgery patients at King's Daughters.
The Auxiliary generates funds to support these programs primarily from KDMC Gift Shop sales and Auxiliary sponsored events including book and jewelry sales at King's Daughters.
"The Auxiliary has been an invaluable part of the medical center for more than 60 years," said Anne Sloan, Volunteer Services director. "More than 200 volunteer on a weekly basis, and the Auxiliary is one of the largest contributors to the Hospitality House. We truly appreciate their dedication to the medical center and our community."