Physicians work to expand oncology training in Ethiopia
King's Daughters neurologist Enawgaw Mehari, M.D., and hematologist/oncologist Galena Salem, M.D. will be traveling to Ethiopia next month to participate in a cancer care/education conference in conjunction with People2People, a charitable organization founded by Dr. Mehari.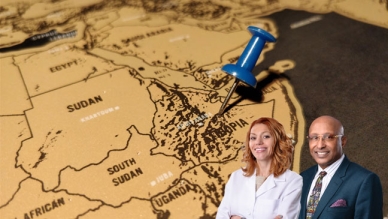 "Our goal is to establish a fellowship program to train cancer care specialists within the Addis Ababa University School of Medicine and Black Lion Hospital," Dr. Mehari said. The February conference will bring together luminaries in cancer care hailing from organizations such as M.D. Anderson Cancer Center, Mayo Clinic, and the U.S. National Institutes of Health.
People to People will help the university expand the basic oncology education program that is already in place, he said. "We will help them expand training in oncology, hematology, pathology … so the program is much more comprehensive and able to meet the needs of the Ethiopian people."
Previously, Dr. Mehari has been instrumental in the establishment of residency programs in neurology and emergency medicine at Black Lion Hospital as well as a master of social work program there.
The expansion will be small at first, providing training to five fellows. As more physicians complete the oncology/hematology fellowship, the program will be able to expand to train additional cancer specialists.
"I have been really impressed with the medical staff at King's Daughters and their interest in helping establish this fellowship," Dr. Mehari said. "Oncologists, anesthesiologists, surgeons, pulmonologists, pathologists … all have gotten behind the program.
"I'm from there, so I have reason to be there. But my colleagues don't have any reason to go, except that they are the kind of people who go the extra mile," he said.