West Portsmouth athlete returns to play after ACL injury quicker than expected thanks to great care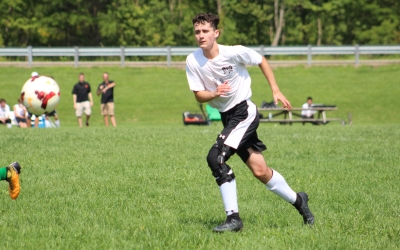 Soccer player Zachary Neal keenly remembers enjoying some off-season play in February at a Shawnee State University indoor soccer tournament. While going after the ball in a defensive stance, he was hit from behind and knocked forward. He took a step and heard a loud pop. That day, everything changed for the 14-year-old.
"I think I immediately knew what the injury was," Zachary said. "But I didn't want to think about it. Instead, I focused on how much I wanted to continue playing."
Soccer is life for Zachary, a West Portsmouth freshman. With five years of play in the books, he felt invincible. After the injury, realizing his playing days could be numbered filled him with frustration and sadness.
Two days following the injury, Zachary was unable to put any weight on his knee. He wasn't getting any better. His father, James, encouraged a visit to see a physician.
After an MRI and evaluation of Zachary's knee, King's Daughters Ohio orthopedic surgeon Gerry Trinidad, M.D., confirmed a tear of the anterior cruciate ligament, the main ligament that stabilizes the knee joint. ACL injuries often occur during a routine cut or jump. Surgery to reconstruct had to wait until after the swelling subsided.
"I wanted my child to be in the best hands," James said. "And I knew Dr. Trinidad was the right choice."
Twenty years ago an ACL injury such as the one Zachary suffered would be career ending, Dr. Trinidad said. Today, thanks to arthroscopy and refined surgical techniques, most young athletes are able to return to sports within six months to a year. Still, confirmation of the ACL injury was devastating. Zachary's freshman season of soccer was now in jeopardy.
After surgery in March, Dr. Trinidad gave Zachary the news he could return to sports in six months. Zachary couldn't believe it his luck; soccer practice began in August. He would only miss one month of training.
Dr. Trinidad told Zachary he may return to sports activity in six months. Zachary couldn't believe it. He wanted to play soccer and practice begins in August.
A straight-A student and dedicated young athlete, Zachary had to learn to walk and run again.
"He was pretty bummed about it," James said. "He went through a tough time. It's a lot for a teen to take."
Drawing upon his inner strength, Zachary worked hard and mustered the motivation to get back on his feet. Tri-State Rehab Services physical therapist Wes Bailey provided some fuel, helping bring Zachary out of his funk.
"Wes knows what it takes to get athletes back on their game — and he helped my son tremendously," James said.
Before meeting Wes, Zachary wasn't sure he had the motivation to get back to playing any sport or even running. Not only did Zachary have what it took, he surpassed everyone's expectations for returning to play. After four months of physical therapy, heat, ice and determination, Zachary was able to practice with his soccer team.
"Three things added up for a successful outcome for Zachary," Dr. Trinidad said. "He's young, he's determined and surgery was successful. His motivation was key."
This fall, Zachary scored his first goal in a high school game.
"Being back on the field playing the sport that was taken from me for a short time is truly humbling," Zachary said. "It's amazing to think I have come all this way to be able to play the sport I love again —to be able to run again and simply walk. This experience has given me a lot more motivation for everything I do and really puts things into perspective."
James is very proud of his son. "To see your child come through this and be a better person at the end is amazing," he said. "I kept telling him: Remember what was taken from you. Always fight to do the right thing and go forward."
Zachary appreciates the great care provided by the nurses at King's Daughters Ohio and his surgeons. "I would have never been able to start rehab and get where I am today without them."
Gerry Trinidad, M.D., Evan Seagraves, APRN, and Luke Lester, APRN offer same-day and next-day appointments. To schedule call King's Daughters Ohio Portsmouth Orthopedics and Sports Medicine at (740) 351-0980.