Diagnosed at Age 37: Two Portraits of Courage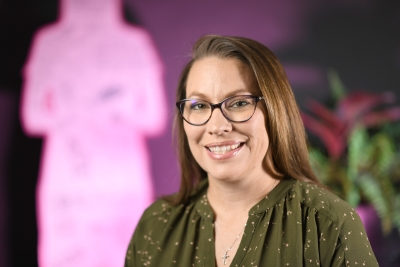 Amy Arthur's story
When turning age 37 in September 2017, Amy Arthur didn't expect a lot different. Dinner and gifts from family members, and a few cards from friends were the norm these days. But first, she had an annual check-up with Richard Ford, M.D., her gynecologist. And that's where her birthday took an unexpected turn.
"Dr. Ford found the lump that day. He wasn't sure it was anything, but he asked me to come back in six weeks. He wouldn't let me leave without an ultrasound that time."
What they found was a small nodule—just 1.6 centimeters. The diagnosis: stage 1 invasive ductal carcinoma, known to most people as breast cancer. Even relatively small and at stage 1, the nodule led her to the office of fellowship-trained breast surgeon Katherine Hughes, M.D. Together, Amy and Dr. Hughes made the decision to have a double mastectomy with reconstruction performed at the same time. The surgery was set for mid-January 2018.
When patients have a mastectomy and reconstruction at the same time, the physicians of each specialty do their work in tandem. In this case, Dr. Hughes performed the mastectomy, followed by reconstruction with plastic and reconstructive surgeonPeter Andolina, D.O. Like Dr. Hughes, Dr. Andolina joined the King's Daughters medical staff in 2017. Just prior to coming to King's Daughters, Dr. Andolina completed a second fellowship in plastic and reconstructive surgery at St. Barnabas Hospital, Bronx, New York City.
After surgery in January, the journey was not over. Amy had reconstruction but not her final implants. Every two weeks afterward, Amy visited Dr. Andolina to have her breast tissue expanded using saline. She had permanent implants in April 2018. "I love Dr. Andolina," Amy said.
While she did not have any further treatment before surgery, the oncology team at King's Daughters did recommend a drug afterward to reduce Amy's chances of recurrence by reducing the amount of estrogen her body produces. Amy started Tamoxifen therapy to help with this. While she's taken every step recommended by her medical team, Amy says she is a little shocked that she developed breast cancer at an early age.
"You could have blown me over. I have no family history. I even had genetic testing—I don't carry the markers for breast cancer. To say I was shocked is an understatement."
Now several months past her surgery and subsequent hormone treatment, Amy has added a few additional medical check-ups to her normal regimen.
"I've always been faithful about doctor visits. I'm a worry-wart. Whether you have a family history or not, don't put it off regular visits and recommended screenings. If you can catch something early, stick with your doctor appointments. You'll be glad you did."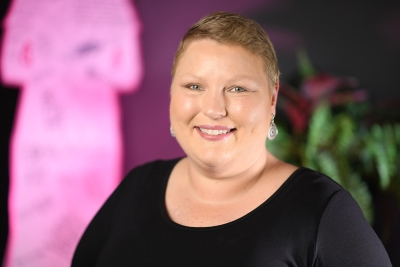 Jolinda Howard's story
It was Thanksgiving 2017—it may seem not that long ago, but a lot can happen in 11 months. Ashland respiratory therapist Jolinda Howard was due for her mammogram, even though she was only 37 at the time.
"Breast cancer was the third time I'd been diagnosed with cancer," Howard said. The first time was a sarcoma (a relatively rare cancer in the body's connective tissue, such as bones, muscles, tendons, cartilage, nerves, fat and blood vessels) at age 24; in 2016, she was treated for melanoma, or skin cancer. As a precaution, she started having mammograms in 2016. Her first screening found fibroid tumors, which are fairly common and bear watching but not treatment. Her next mammogram was scheduled for around Thanksgiving 2017. Jolinda says her diagnosis "didn't affect me as much as it might have."
After a suspicious mammogram, a follow-up ultrasound didn't reveal anything. A breast MRI revealed more: invasive ductal carcinoma in both breasts. Jolinda's physician, gynecologist Richard Ford, M.D., called her with the stark news. "Dr. Ford recommended (breast surgeon) Dr. Hughes. I met her and loved her immediately."
Dr. Hughes talked through the options with Jolinda. Dr. Hughes had arrived at King's Daughters just a few months prior, after completing a fellowship in breast surgery at the University of Texas Southwestern Medical Center in Dallas. She is the only fellowship-trained breast surgeon in the Tri-State region.
After recovering from surgery, Jolinda met with oncologist/hematologist Chad Tarabolous, M.D. He recommended "an aggressive chemotherapy treatment called AC-T," Jolinda said. The AC-T regimen uses three drugs that work together to eliminate any trace amounts of carcinoma (cancer cells). The drugs are Adriamycin (doxorubicin hydrochloride), Cyclophosphamide, and Taxol (paclitaxel). She had 16 infusions over four months.
Jolinda used an innovative tactic to keep most of her hair during treatment. "I had researched the issue, and we ended up using a cold cap to see if we could prevent my hair from falling out. I had a small team of friends and my husband Craig help take the cooler to treatment. I would wear the cap at -52 degrees an hour before treatment, and for six hours afterward."
Jolinda was able to retain some of her hair but "not as much as I would have liked, mostly because of my head size," she said with a laugh. She said the treatment was a little uncomfortable but not painful.
Now several months past her treatment, Jolinda says she is considering breast reconstruction.
Her best advice as a three-time cancer survivor? Surround yourself with loving family and helpful friends, and focus on the future you want for your kids, family, and yourself.