King's Daughters and KBC partnership keeps blood donations local
Category: Blog
Posted On:
Written By:

King's Daughters Health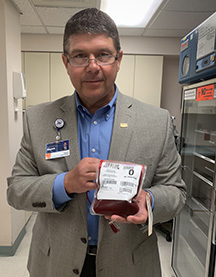 King's Daughters' ongoing partnership with the Kentucky Blood Center is keeping blood donations local.
KBC has been the sole provider of blood products for King's Daughters for more than a year. The blood center is the largest FDA-licensed nonprofit blood bank headquartered in Kentucky, operating out of Lexington.
King's Daughters Executive Director of Diagnostic Services Shawn Boggs said the partnership has allowed the health system to improve the quality of blood services, with all donations staying in the Commonwealth.
Boggs said very little blood is wasted after a donation, noting KBC has a unique system of making sure all blood can be used whether it is in the local area or elsewhere in the state.
"We are delighted to partner with King's Daughters and look forward to sharing our life-saving mission with even more Kentuckians," said KBC President and CEO Bill Reed.
KBC has had 14 blood drives at King's Daughters since last July. In that time, 764 donors have registered.
Upcoming KBC drives will be on the following dates at King's Daughters:
Wednesday, Sept. 11 (7 a.m. – 1 p.m.)
Monday, Oct. 7 (12:30 – 6 p.m.)
Wednesday, Nov. 13 (7 a.m. – 1 p.m.)
Monday, Dec. 2 (12:30 – 6 p.m.)
Wednesday, Jan. 22, 2020 (7 a.m. – 1 p.m.)
Monday, Feb. 17, 2020 (12:30 – 6 p.m.)
To sign up for a blood drive go to kybloodcenter.org or call 800.775.2522. Local businesses interested in hosting a KBC blood drive can also contact 800.775.2522.