A "textbook" Central Sterile program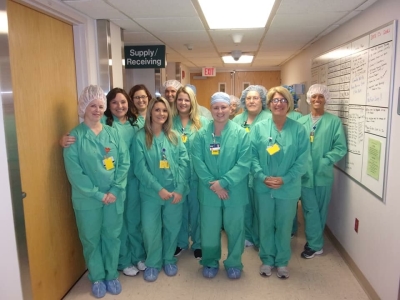 Kudos to Glenna Hamblin (second from left in the photo) and the King's Daughters Central Sterile teams for a job well done! Glenna's ability to stay abreast (and ahead) of the rapidly changing regulatory requirements and patient safety standards has resulted in stellar outcomes. A consultant recently commented that the King's Daughters "Central Sterile Department is the most clean, organized, well-ran I have ever seen... and I have been in hundreds throughout the country."
Part of Glenna's role with system-wide oversight includes 19 physician practices that handle instruments and transport to our main campus.
At the conclusion of the recent survey of King's Daughters, the Joint Commission asked the team to write about our HLD program to submit to their leading practice library. They described our HLD program as "textbook."
Glenna spends countless hours educating and surveying for compliance to achieve this extremely high level of performance. She has also implemented several other best practice standards such as:
a closed cart system for transport
a peel pack/wrapper expiration plan
vendor compliance strategies
Glenna was recently nominated for the Central Sterile Manager of the Year Award and will be presenting at the IAHCSMM (International Association of Healthcare Central Service Management) annual conference in Anaheim, California, in April. This conference will provide attendees with resources needed to elevate their knowledge and promote ongoing quality and professionalism within their department.
A big congratulations and thank you to Glenna for her multiple accomplishments within her society and for all that she does every day to foster a culture of high quality performance standards ensuring our patient's safety.