Kroger Community Rewards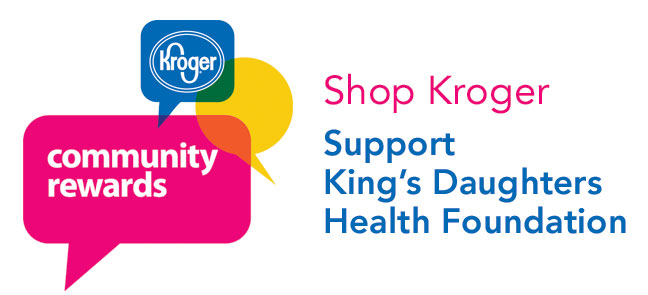 The Kroger Family of Companies is committed to community engagement, positive social impact and charitable giving at the national and local levels. One of the ways in which they do this is through the Kroger Community Rewards program. This program makes fundraising easy by donating to local organizations based on the shopping you would do every day. Once you link your shopper's card to an organization, all you have to do is shop at Kroger and swipe your card. Any transactions moving forward using the shopper's card number associated with your digital account will be applied to the program, at no added cost to you. Kroger donates annually to participating organizations based on your percentage of spending as it relates to the total spending associated with all participating Kroger Community Rewards organizations.
If you would like to give back to the King's Daughters Health Foundation through Kroger Rewards, please follow the steps below:
Visit www.kroger.com.
Log in to your Kroger account.
From your account, select Community Rewards.
Search for the King's Daughters Health Foundation (non-profit number EL969) and link to your Kroger card.
We appreciate each and every supporter of the Foundation. Through the work of the Health Foundation, contributions and gifts are secured to support patient care, medical equipment upgrades, outreach services including health screenings and education as well as special needs for patients and families.