Life at Kingsbrook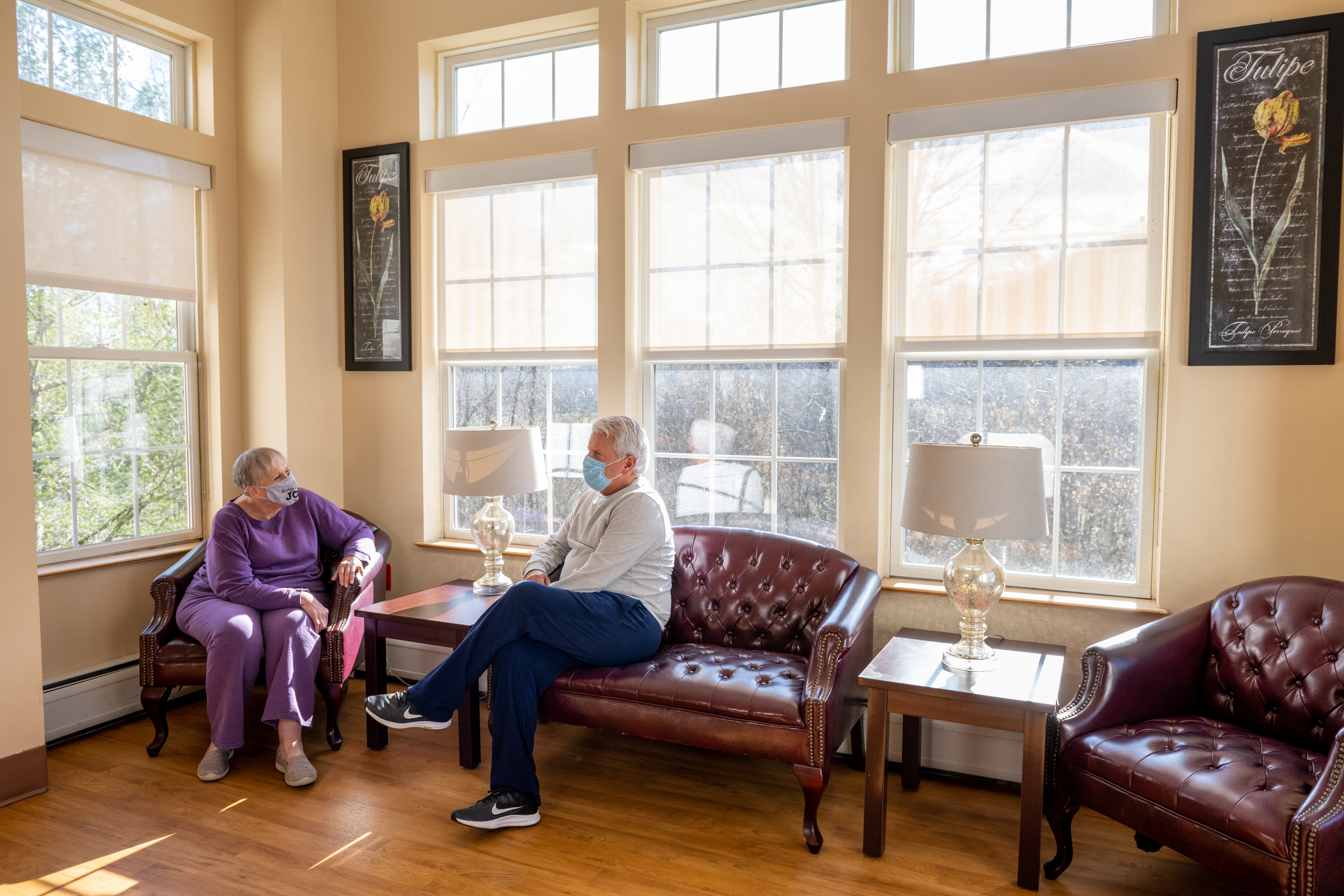 Kingsbrook Lifecare Center is a modern, spacious, beautifully appointed facility that offers a comfortable, homelike environment. Surrounded by beautiful landscaping, a warm day may find a resident enjoying time in our Gazebo, picnic areas, or just listening to birds singing.
Our facility is divided into four neighborhoods: Shoreline, Bridgeway, Forrest Heights, and Garden View. Each neighborhood is uniquely decorated and designed with the theme in mind, reflecting a serene, home-like feel.
Located in a semi-rural area of Boyd County, Kingsbrook offers our residents security, comfort, fellowship and peace of mind. There's always something going on at Kingsbrook!
Amenities available to Kingsbrook residents include:
Residents may choose from among made-from-scratch entrees prepared by our inhouse dietary staff, including our full time registered dietician and dietary liaisons who work with each resident on nutritional requirements as well as personal preferences.
Common grounds, our Wi-Fi Café, provides a place for the resident to relax and connect with friends and family virtually. It includes two open-access computers as well as self-serve coffee and cappuccino and a large, flat-screen TV. It is a place where residents can relax and socialize in a Café setting.
Our beautiful chapel provides a place where residents can focus on spiritual healing as much as on the physical aspects of their health. The Kingsbrook Chapel is a place of comfort and serenity for all, regardless of denomination. A member of the King's Daughters Pastoral Care Department visits us weekly to lead bible study with small groups. They also offer bedside visits with residents and families when needed.
On-site hair salon. Offering pampering and relaxation, our stylists are experts in helping men and women feel their best. We endeavor to keep salon services as affordable as possible for residents, salon gift certificates are available and appreciated.
Eight solariums. The solariums are open to all residents, offering serene views of our well-manicured landscaping and flower gardens.
Outdoor gazebo and family picnic area. Plenty of garden seating, picnic tables, patios, shaded areas. There are also family picnic areas available for celebrations and special occasions.
Outdoor walking track
King's Daughters security officers round the property routinely throughout the day and night, to help ensure the safety of residents and staff.